olson kundig's hillside 'collywood house' presents sweeping views across los angeles
olson kundig designed this high-tech west hollywood retreat to take in sweeping views across los angeles, from the san gabriel mountains to the pacific ocean. located just above the sunset strip, the residence offers spectacular views from all parts of the house, while taking advantage of the climate of southern california. as they client enjoys spending time outdoors, the architects sought to blur the boundaries between internal and external space — encouraging outdoor living as much as possible.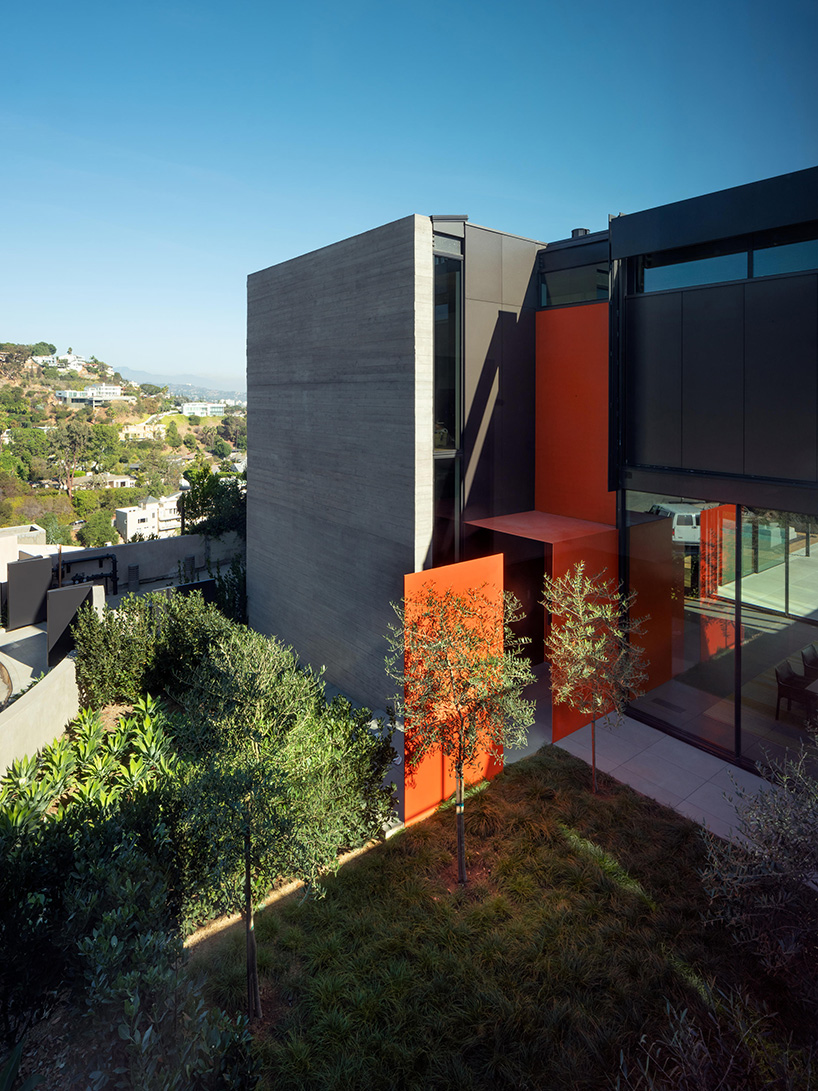 all images by nic lehoux
the main level of the olson kundig-designed home, titled 'collywood', contains the kitchen and a sequence of dining and living areas. here, a series of retractable window walls open on to outdoor terraces that wrap around the exterior. furthermore, sliding window walls in the living area, kitchen, and north bedroom complement a pair of 'guillotine' window walls in the dining area and two pivoting window walls on the south side of the living area.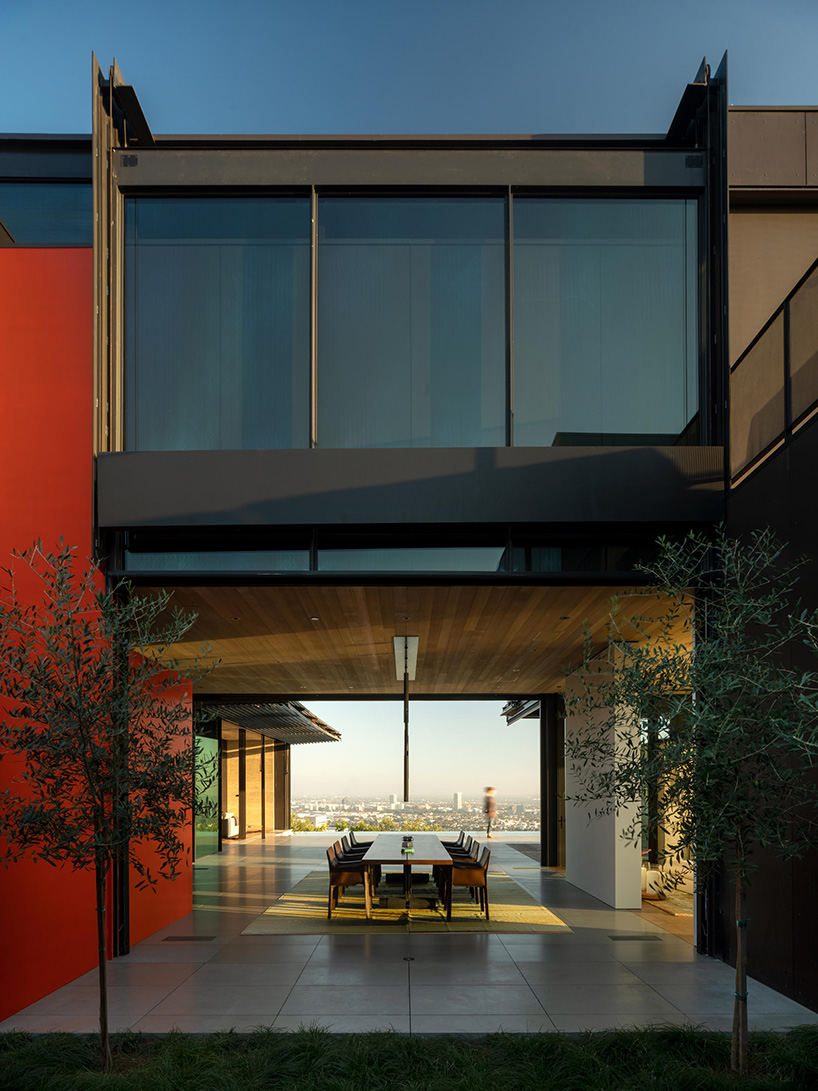 the main terrace, adjacent to the dining and living spaces, leads to a swimming pool overlooking a grove of olive trees on the hillside below. this connection with the outdoors continues on the upper level, which contains the master bedroom and a den, home gym, and a series of roof decks. the lower level reflects the client's personal interests and hobbies, containing an auto gallery, game room, and media room. a large outdoor terrace extends from the auto gallery, cantilevering out over the hillside.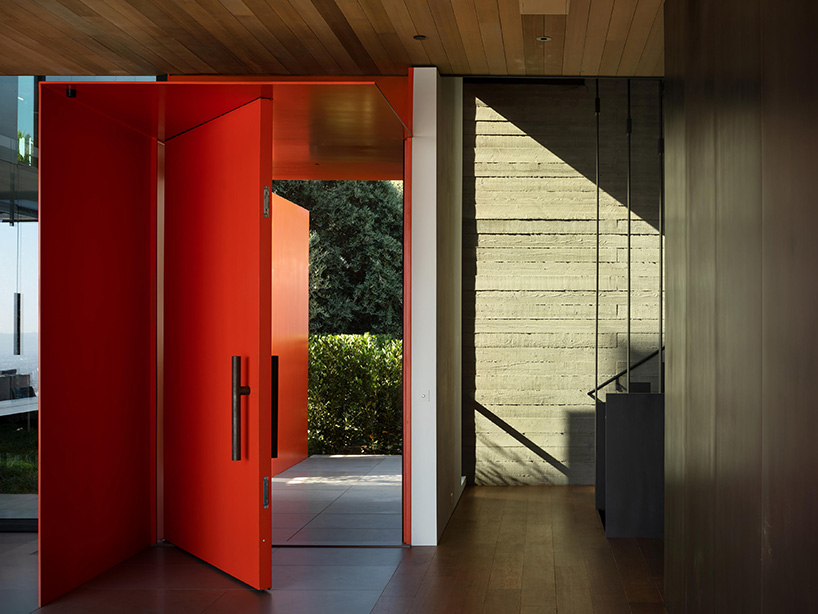 'this home navigates many different scales: the larger landscape scale of los angeles, the scale of entertainment and large group gatherings, and the intimate scale of spaces for daily living,' explains tom kundig. 'I'm most excited about how the design intertwines these scales and allows the client to expand or contract the home depending on changing needs.'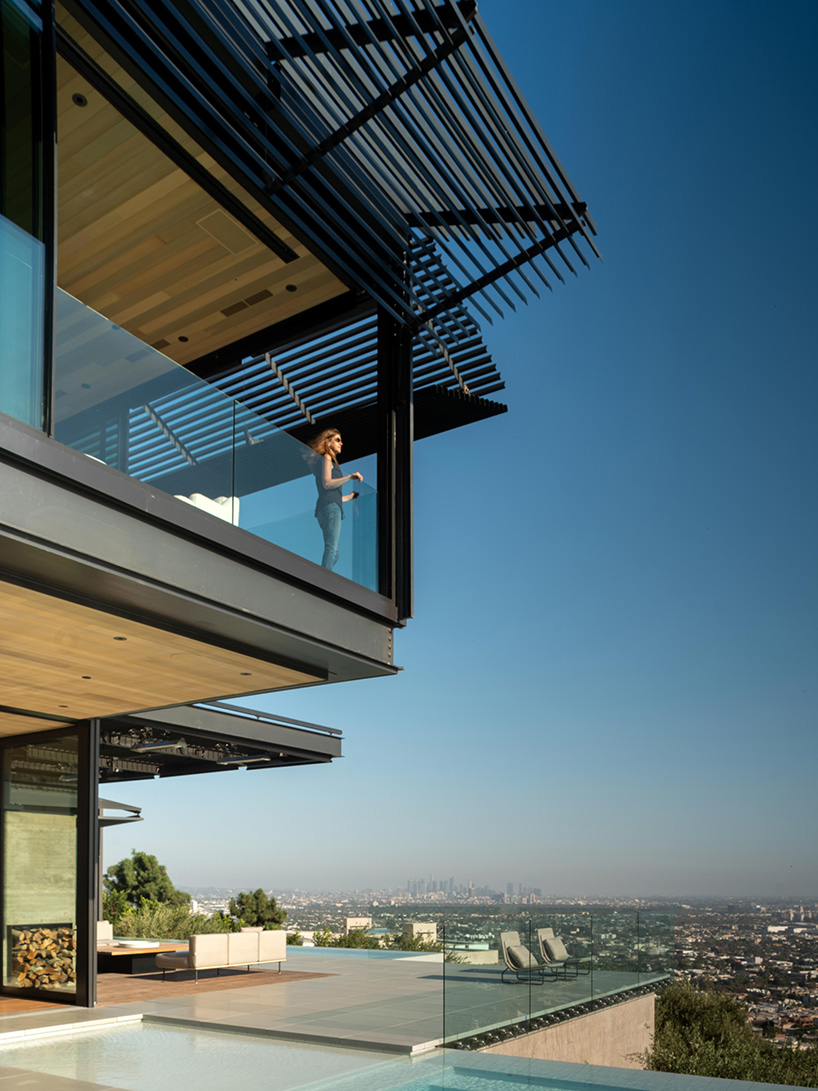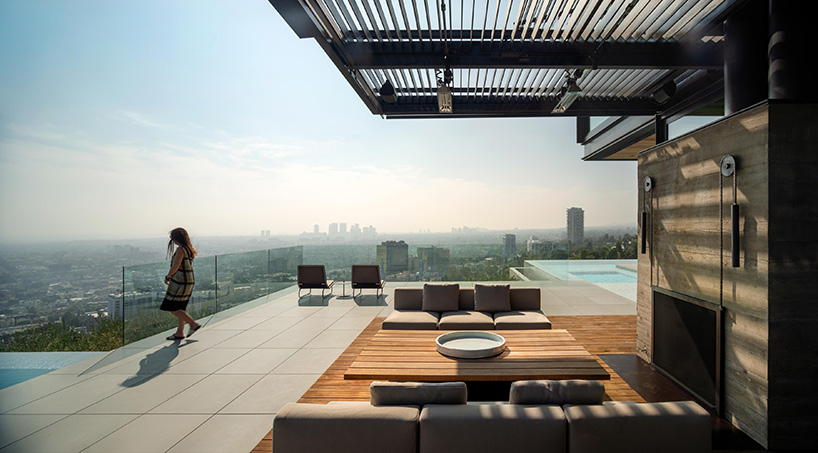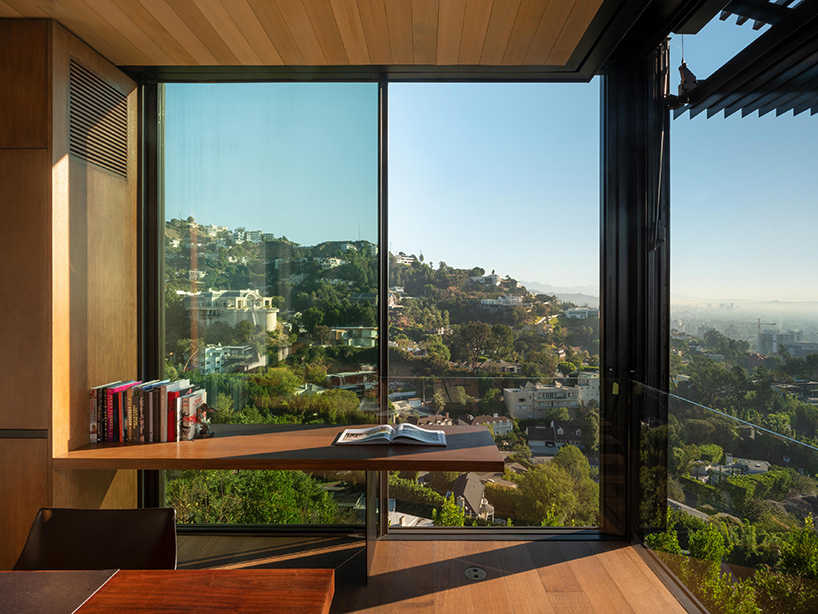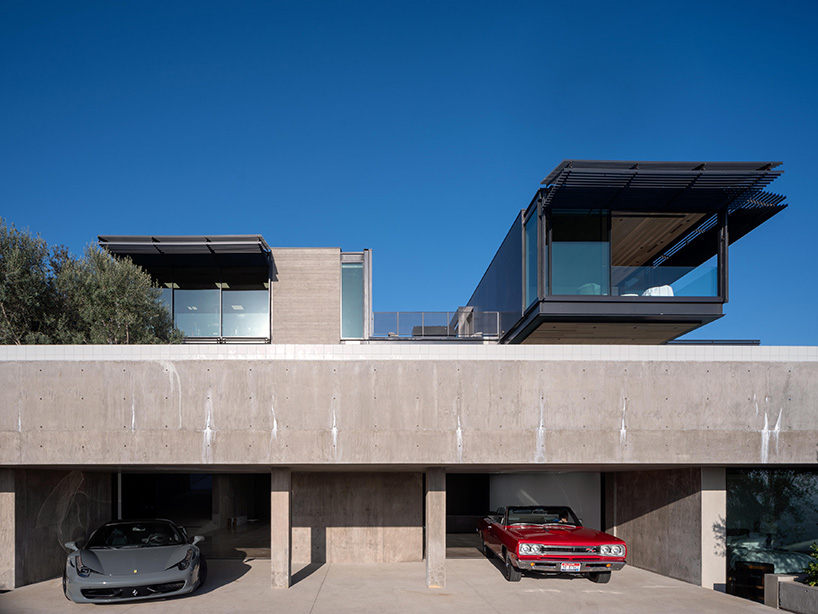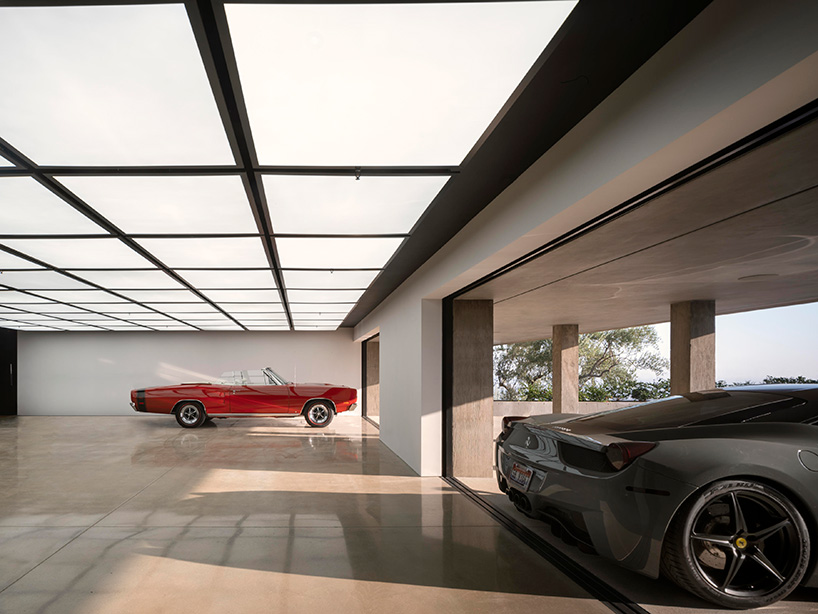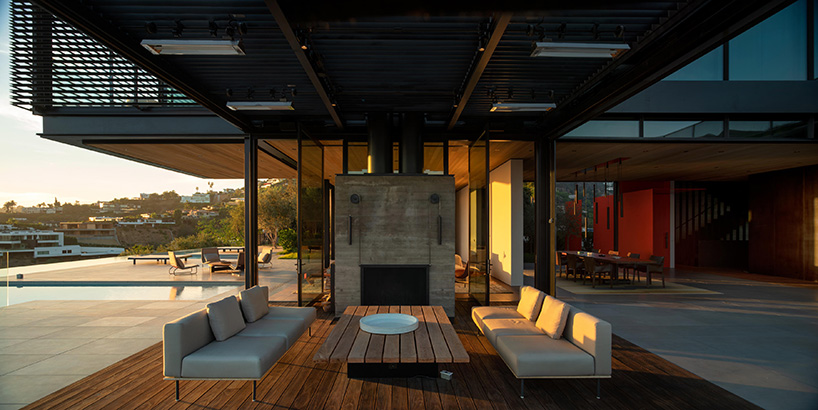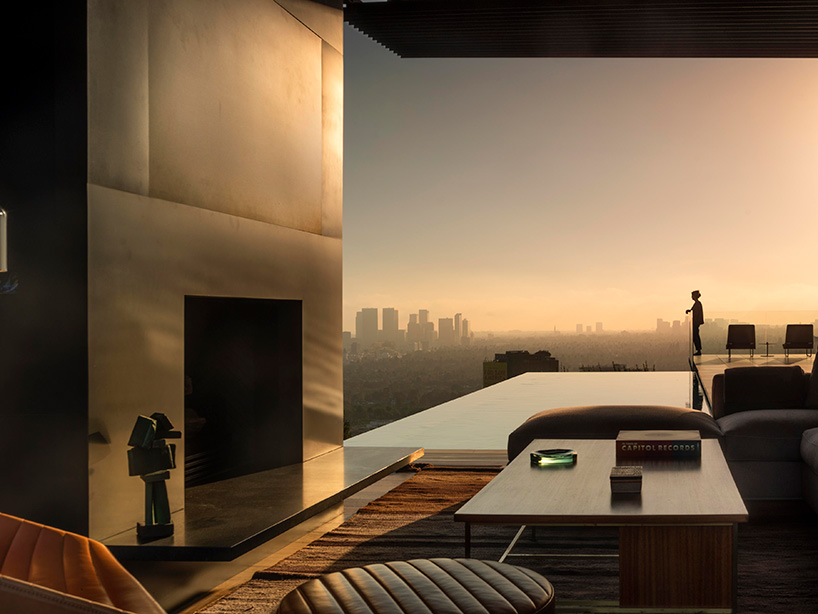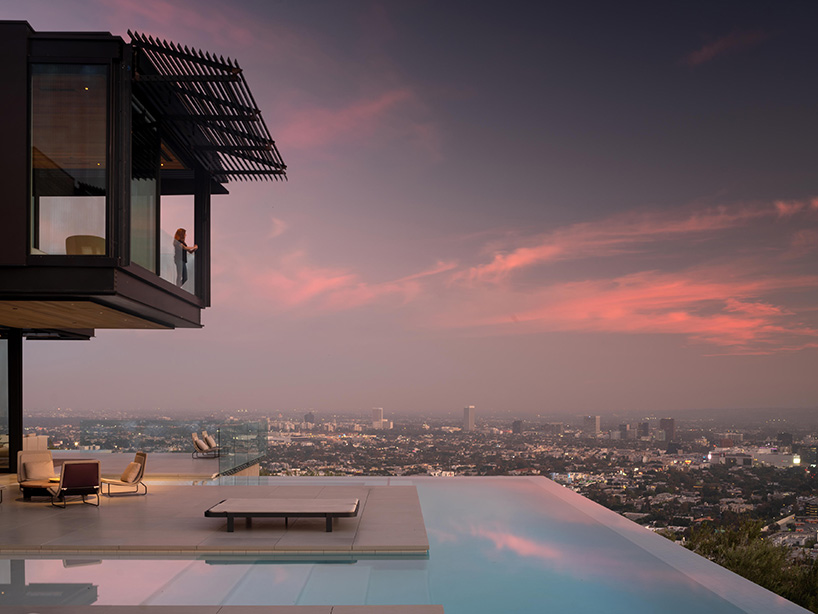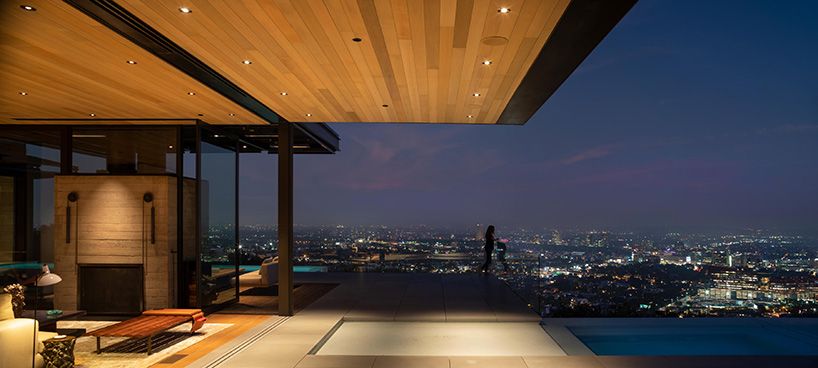 image by nic lehoux

image by nic lehoux

image by nic lehoux

image by nic lehoux

image by nic lehoux

image by nic lehoux

image by nic lehoux

image by nic lehoux

image by nic lehoux

image by nic lehoux

image by nic lehoux

image by nic lehoux
project info:
name: collywood
location: west hollywood, california
completed: 2018
size: 15,642 sqf (11,727 sqf interior conditioned space + 3,917 sqf interior unconditioned space); exterior deck/patio: 6,958 sqf (including pools)
architect: olson kundig
project team —
design principal: tom kundig, FAIA, RIBA
project manager: elizabeth bianchi conklin, AIA, LEED AP
architectural staff: patricia flores, cameron shampine, evan harlan
interior design: debbie kennedy, LEED AP ID+C
interior design staff: amanda chenoweth, ana brainard, and crisanna siegert
art consultant: jerry garcia, LEED AP
key consultants: MG partners, general contractor; lee gilman builders, owner's representative; T engineering group, civil engineer; PCS structural, structural engineer; prime aire, mechanical engineer; buratti & associates, electrical engineer; clark & white landscape, landscape architect; illum lighting design, lighting design; black's electric, audio-visual consultant; KB architectural services with phil turner, gizmo design; newton energy, energy consultant; holden water, pool and hot tub design; crest real estate, land use consultant; meta design, gizmo fabrication
philip stevens I designboom
mar 29, 2020
Architecture, architecture in california, architecture in los angeles, Art, Design, Entertainment, galleries, Inspiration, olson kundig architects, residential architecture and interiors
Architecture, architecture in california, architecture in los angeles, Art, Design, Entertainment, galleries, Inspiration, olson kundig architects, residential architecture and interiors