How to Group Video Chat With Up to Eight People in WhatsApp
WhatsApp has upgraded its end-to-end encrypted video call feature, which now allows groups of up to eight participants to chat together, up from the previous limit of four.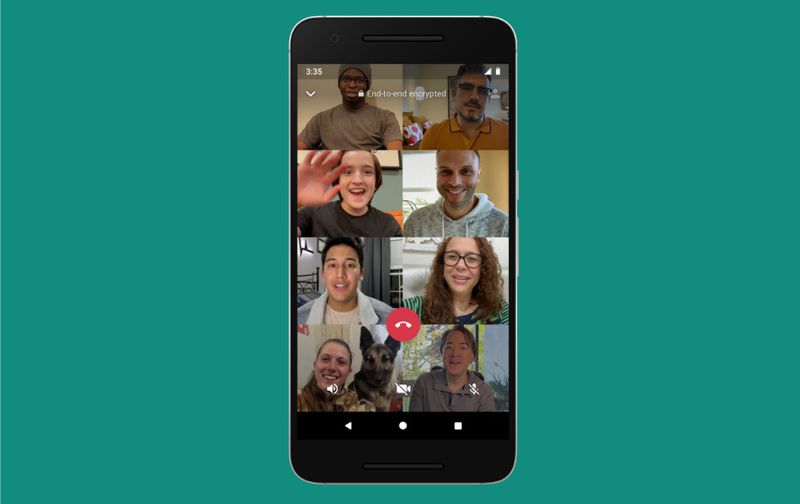 WhatsApp has been gradually developing its group video call capabilities through beta builds, as rival video call services like Zoom, FaceTime and Skype have exploded in popularity amid the ongoing stay-at-home measures. At the same time, Facebook has released Messenger Rooms, enabling up to eight people to join in on a group call.
There are two ways to initiate an encrypted group voice or video call in WhatsApp with up to eight people (that's seven other people including yourself). Just make sure that you and anyone you want to call has updated to version 2.20.50 of WhatsApp, or it won't work.
The easiest way to initiate a call is to open an active group chat and tap the Video Call or Phone Call button in the top right corner of the screen. If the group has more than eight participants, you'll be asked which contacts you want to call, otherwise the call will initiate automatically.
Alternatively, you can initiate a WhatsApp group call including anyone in your contacts list. Simply follow the steps below.
Launch WhatsApp and select the Calls tab at the bottom of the screen.



Tap the Call icon in the top-right corner.



Select New Group Call at the top of the contact list.



Add up to seven participants by tapping on them in your contacts.


When you've added the participants, tap the Video Call button (the camera icon) or the Audio Call option (the phone icon) to initiate the call.



If any of the participants you chose are using an older version of WhatsApp, you'll be notified and the call won't connect until they've all updated.
Top Stories
While the iPhone SE and Magic Keyboard for iPad Pro making their way into customers' hands were the biggest news this week, we also saw a ton of rumors about Apple's upcoming product line. Confusion about Apple's plans for its AirPods lineup continues to reign, with conflicting rumors on models and timing, while we also saw some new rumors about a 23-inch iMac and an 11-inch iPad coming…
iFixit today shared a new report detailing which parts from the new iPhone SE can be replaced with those from the iPhone 8. This comes just days after a teardown video shared on Thursday by a Chinese YouTuber also highlighted many of the similarities between the two devices. iPhone 8 (left) and the new iPhone SE (right) via iFixit The report mentions that the 2020 iPhone SE's cameras, SIM…
The iPhone SE had its official launch day today, with the first orders arriving to customers this morning. We picked up one of the new (PRODUCT)RED iPhone SE models and checked out the design and features in our latest YouTube video, which is worth watching if you're thinking of making an upgrade from an older iPhone. Subscribe to the MacRumors YouTube channel for more videos. Despite the…
When it comes to design, the iPhone SE is identical to the iPhone 8, featuring a 4.7-inch LCD display, thick top and bottom bezels, a single-lens rear camera, and a Touch ID Home button. Unsurprisingly, the iPhone 8 also looks a lot like the iPhone SE inside, as detailed in a teardown video by a Chinese YouTuber who has one of the devices on hand. The video, which has subtitles, was shared…
iFixit has published its full teardown of the new iPhone SE, confirming that the device has many similar or identical components as the iPhone 8, including the display, battery, cameras, Taptic Engine, SIM tray, and more. The new iPhone SE appears to have the same 12-megapixel rear camera sensor as the iPhone 8, with the benefit of the A13 chip's improved image signal processor, as Rene…
There appears to be a new character-linked bug in Messages, Mail, and other apps that can cause the iPhone, iPad, Mac, and Apple Watch to crash when receiving a specific string of characters. Image from Twitter In this particular case, the character string involves the Italian flag emoji along with characters in the Sindhi language, and it appears the system crash happens when an incoming…
Economic Daily News on Monday revived rumors that this year's 5G iPhone will feature under-display fingerprint scanner technology. According to a machine translation of EDN's Chinese-language report, touch panel maker GIS, OLED display maker BOE and Qualcomm are collaborating on the ultrasonic technology, which could feature in at least one of the high-end models in Apple's 5G iPhone…
Germany said on Sunday it will use Apple and Google's decentralized contact tracing API, reversing course on its original intention to use its own solution to track the spread of coronavirus. Last week, the German government said it would use its own home-grown technology for smartphone-based tracing of infections, based on a design that would hold personal data on a central server….
Well-connected Bloomberg reporter Mark Gurman recently took questions from followers on Periscope about Apple's product roadmap. Gurman's sources are usually very reliable, and the journalist is known for breaking Apple stories, so we took it as an opportunity to summarize his current expectations of the company in the near term. Unsurprisingly, many viewers asked Gurman about the so-called…
Apple, Mac, Technology, WhatsApp
Apple, Mac, Technology, WhatsApp